BEGINNING German GENEALOGY: START IT RIGHT c 2015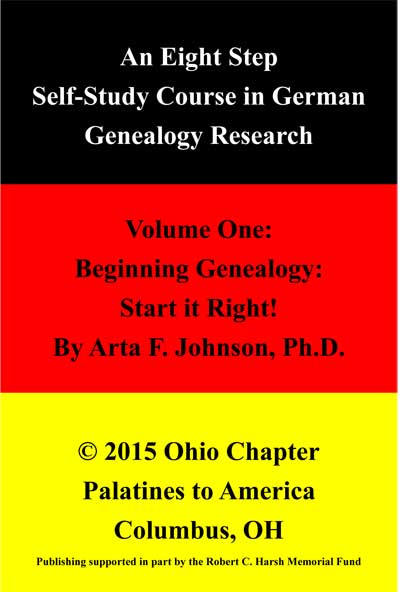 Arta F. Johnson, PhD, Volume 1 of an 8-Volume Self-Study Course in German Genealogy Research. Sold exclusively on this site
Arta F. Johnson was a master of genealogical research. Her selfless help of beginners is reflected in this volume. Whether you are a beginner or restarting your research, this volume will allow you to get yourself on the right path or review what you have already completed and fill in the missing blanks.
This 78-page volume has a full bibliography and a resource section added by our editor, Linda Dietrich, with suggestions and links for 21st-century technology. With suggestions for the best software to use to record your family history and the best sites to visit for genealogical information online.
The new updates and original text of this 2015 version of Beginning Genealogy: Start It Right combine to make this a must-have volume. It is well worth the $10 purchase price (handling and taxes will be applied). Get your copy today.
HOW TO READ GERMAN CHURCH RECORDS WITHOUT KNOWING MUCH GERMAN!
by Arta F. Johnson, Ph.D., Vol 6 of 8-Volume Self-Study Course in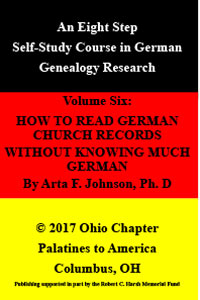 German Genealogy Research. Sold exclusively on this site.
48 pages paper booklet
This book gets five stars because it has a ring binding that allows it to lay flat, making it easy to use with your computer. In addition, it is lightweight and can fit into a small bag or computer case. Finally, it has the same information that the larger books on this topic offer and is sold at a better price point.
A primer, a beginner's book designed for researchers who have no knowledge of the "Old German Script" language. It is not intended to be a course in the language, only the essential vocabulary and minimal grammar of the day.
You will find helpful words to look for within the records of births, baptisms, confirmations, marriages, and deaths. Word translations from German to English found among the records. Illustrations of the written German Script, often times Latin, words translated into English.
Arta Johnson explains the pitfalls to be aware of when reading these documents. A chapter is dedicated to the "Standard Numbering System." The various international symbols used by genealogists around the world. A vocabulary containing the most used words from church records.
The book has a wealth of information within its 48 pages for someone who wants to learn and become familiar with their German records.
WOODEN SHOE HOLLOW: Charlotte Pieper's Cincinnati German Novel!
edited by Don Heinrich Tolzmann
275 pages; paper; maps, photographs; notes; index
Little Miami Publishing Company $22.50
The book contains two parts the first part is a forward by Dr. Tolzmann with photographs and history of the Pieper Family and many of the farmers who made up the area known as Winton Place today. Most of these farmers came from northwestern Germany. The second part begins the story by Charlotte Pieper of those early days.
A historical novel that illustrates the turn of the 20th century of German-American heritage. It takes place in Wooden Shoe Hollow and is based on real people and places. It follows a young immigrant German woman, Rica Heber, in her desperate attempt to escape her homeland. She finds herself living among the truck farmers in Cincinnati, Ohio area. A German settlement of German-Americans. While trying to ignore her problems, she learns how these new immigrants grow, love, play, and survive in their new country.
I found this book informative and enjoyable, lending its stories to my own ancestor's lives who owned a small piece of land in Wooden Shoe Hollow. The place where my father was born.